These walks are edited and produced by Stewart Tedaldi, one of the Explorer Scout Leaders at Nutty Badgers and a resident of Upton St Leonards for nearly 30 years.
Living within Upton St Leonards we have many bridleways, footpaths and tracks to use, I'm told its 22miles. So I've started to record some of my favourites. From 1 mile to 5 miles, so there might be a walk here for you to enjoy.
There are a few ways you can enjoy these walks. However as with all activities its good old common sense that should prevail. If you see a herd of heffers and you have a dog on a lead, consider the risks. Likewise I believe all these route are on public rights of way, so enjoy and explore whats right on our door step.
If you follow any of the routes I have provided, you do so at your own risk and does not replace any information available to you whilst physically carrying out the walk or within the current environment. 
It is up to you as the walker, to comply with any hazards presented to you at the time of the walk, to comply with the Countryside and Highway Codes whilst on these routes. Yes its common sense, these walks are across both public and private land. Click on the Countryside Code to download the guide.
And finally remember the old phrase, " take nothing but photos, leaving only footprints." Enjoy our village walks as they are within the Stroud Area of Outstanding Natural Beauty – AONB.
You also need to consider the terrain you're about to walk in, the time of year and the weather. Good walking footwear is always recommended, "there is no such thing as bad weather, just poor clothing choice". To help with the route choice I've colour coded them. I'll be adding more routes regularly, but if you have a suggestion for a walk then see my email link at the bottom of the page.
The routes were originally created in OS MAPS, see bottom of page for more details. Within OS Maps you can download the route to your mobile device, so as to be able to follow when out and about. However if you like good old paper maps, then I'd suggest map OS179.
Each route has a link to the OSMaps page or you can download the pdf map for printing at home by CLICKING ON EACH MAP IMAGE.
12th June – there is currently an issue with the stored routes within OSMaps, if the download does not work please download the route by clicking on the map.
Update Dec 2020 – OSMaps have still not sorted the Technical Issue of deleting routes automatically. They expect an update in Jan 2021 to resolve. In the meantime I have started to trial ViewRanger. I'll update the pages as and when time allows.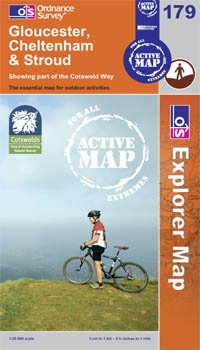 Have you got the essentials?
Do you have a compass if not head over to our shop and get yours now
Going on an evening wonder but cant find your torch? Find options in the shop…
I've added an unmarked section of the OSMap for the Upper Sections of the walks around Pope's, Kites, Cud Hill and Prinknash.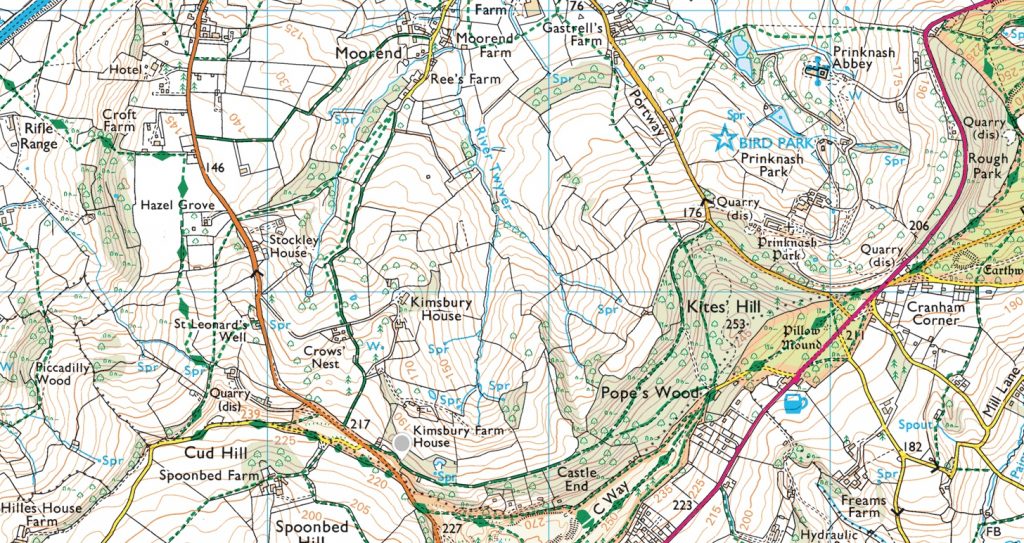 Have you wondered who actually looks after our village footpaths, bridges and gates. Its actually a group of volunteers who operate under the Upton St Leonards Community Action Network (USCAN) – Footpath Group. 
So thanks to them for all their hard work across the network of 22miles of footpaths.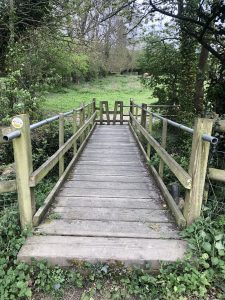 If you have any ideas for walks to feature on this page then please email at stewart@nuttybadgers.org.uk
OS Maps – Ordnance Survey have a great APP which allows for maps to be saved along with routes (like the ones above) onto your device. This helps when out walking as its shows your exact location on the screen, plus all the footpaths and bridleways. Whilst its no real substitute for a good old fashion map, this APP can be very useful. 
Use your device to search for the OS Maps APP. Whilst the full OS Maps, as seen on this site require a full subscription, you can use their standard maps which will aid your walk. However if you are serious about walking these routes, then a paper map or this APP make sense.
Neither I, nor the scout group get any reward for promoting this APP, but it's worth considering.