International Summer Camp 2017 – Denmark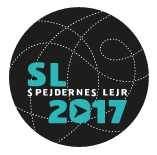 We are going to Spejdernes Lejr, the Danish National Jamboree. The Jamboree takes place from the 22nd July – 30th July. You can find out more about the jamboree on their website.
As a Unit we went out to the Jamboree in 2012 and had a fab time. We aim to ensure that everyone gets the opportunity to participate in an international trip so those Explorers that turn 18 during this school year are invited to join us..
Jamboree Denmark 2017 is present on several social media sites (mostly in Danish, but there will be international pages on Facebook).